While restaurants have faced neighborhood crime, staff issues and skyrocketing costs, it was the pandemic that changed everything.
An innovative local restaurant company focused on providing Vancouver office residents with a healthy, sustainable take-out fare has closed its three locations, citing numerous reasons related to the coronavirus pandemic and inaction by local leaders to solve urgent problems in the heart of the city. .
Smak, which operated three branches of its "healthy fast food" outposts – on Granville, Pender and Howe streets – in the city center, went completely out of business on Friday October 8, owner Brendan Ladner said. Vancouver is awesome during a telephone interview.
With a business model focused on quick-service daytime meals for downtown dwellers looking to eat better off their workweek breakfasts and lunches, Ladner says the COVID-19 pandemic has finally resulted in the demise of Smak, who had struggled for some time and relied on government grants to keep himself afloat.
These grants, however, have many business owners like Ladner on the proverbial barrel. "We were happy that the banks gave us a six-month break on payments, but we realized we had to pay back a year and a half of payments to compensate," he recalls.
"As a business owner, you are planning for the day when you finally pay off the banks – that day would probably never come for Smak because of COVID," Ladner adds.
Even with what appeared to be a reprieve from paying for all three of Smak's outlets, the customer base was increasingly exhausted due to the exodus of office workers and the shift to the work-from-home model.
Ladner says the decline in the number of Smak customers reflects the decline in the number of people commuting to downtown Vancouver for work on a daily basis. While many companies like Smak were bullish there would be a wave of a comeback in the fall, Ladner notes that September 2021 saw Smak's sales drop from September 2020.
"The foot traffic just isn't there," Ladner adds.
Plus, those back in the office are often only there a few days a week, which makes things difficult for a company like Smak that serves healthier food. Ladner talks about the customers' 'I deserve a treat' mentality that guides choices when looking to dine downtown; they're often in this part of Vancouver attending an event or going on an outing and aren't as keen on balancing frequent heavy meals with a few healthy meals.
"I really see a change in terms of customer preferences," Ladner observes. Even office workers look for a healthier option about half as often, proportional to how often they are physically in their office. "This makes it even more difficult," says the restaurateur.
Losing customer loyalty to delivery applications
But customers are also increasingly attracted to the great deals, promotions and freebies offered by third-party delivery apps. The consequences for a company like Smak were manifold. Ladner says these ordering benefits for customers were "offers that come at the expense of the operator," in addition to the already high fees.
"Honestly, I don't understand how a family restaurant can really do when you donate 20-30% of every sale to third-party apps," Ladner points out. Essentially, the business pays third parties to be on their platform, but the customer belongs to the app or service, not the restaurant. Mistakes on orders were the restaurant's responsibility, as was labor to deal with the often noisy control device.
"We would do a lot of work to make the app look good," Ladner adds.
The problem with third-party delivery apps is compounded by the growing popularity of "ghost kitchen" – a restaurant with no physical location, just prep space in a commissary or shared kitchen. Ladner cites delivery apps like DoorDash, which have entered the ghost kitchen business and have the ability to rank these businesses higher in app search results, sending more customers to them.
"How the hell can I, in downtown rent, compete with a 400 square foot dude on Industrial Ave.?" Ladner asks. "I can not."
Not only is the virtual marketplace crowded, but so is the brick and mortar market. Ladner says the downtown area has seen a slight increase in the number of quick-service restaurant models taking hold, which means increased competition for a diminishing supply of eaters.
"We were fighting with everyone for pieces of a cupcake."
Another sector affected: While tourists were not Smak's bread and butter, without cruise ships docking in Vancouver, hospitality workers who were Smak customers are also not at work.
"Why the hell are we going to downtown Vancouver right now?" "
Besides downtown office or reception workers, Ladner says it's increasingly unattractive for locals to spend time in the city center.
"Why the hell are we going to downtown Vancouver right now?" Ladner asks. An avid cyclist and parent of two young children, the businessman says he does not feel safe cycling with his children in the city despite the increase in cycle paths. In general, security is an issue, he says.
Contribute to the lack of "locals coming from [to downtown] for recreation, "is, in part, such overt drug use, Ladner notes, describing the picnic table outside the Smak's Pender Street outpost as a" crack table. "
"I don't want to criminalize mental health and poverty – it's a much bigger problem," he says, adding that Smak has had to deal with an increase in vandalism, shootings, thefts and threats against the staff.
Staff and supply problems have piled up
Echoing others in the industry, Ladner says keeping and retaining staff has been a constant problem. Smak has long relied on the foreign worker visa program, which has been limited. Student visas, on the other hand, only allow part-time work, which means that in order to get a full week of work, Smak would have to find, hire and train two people. Due to understaffing, Smak's hours have been reduced.
Costs have also gone up, especially the packaging, which means all of those take-out bowls come at a higher price for the business; Ladner says those costs have increased by 40% for Smak. And despite offering fully compostable packaging, Ladner says the production of these items has a massive footprint, which he had wanted to move away from.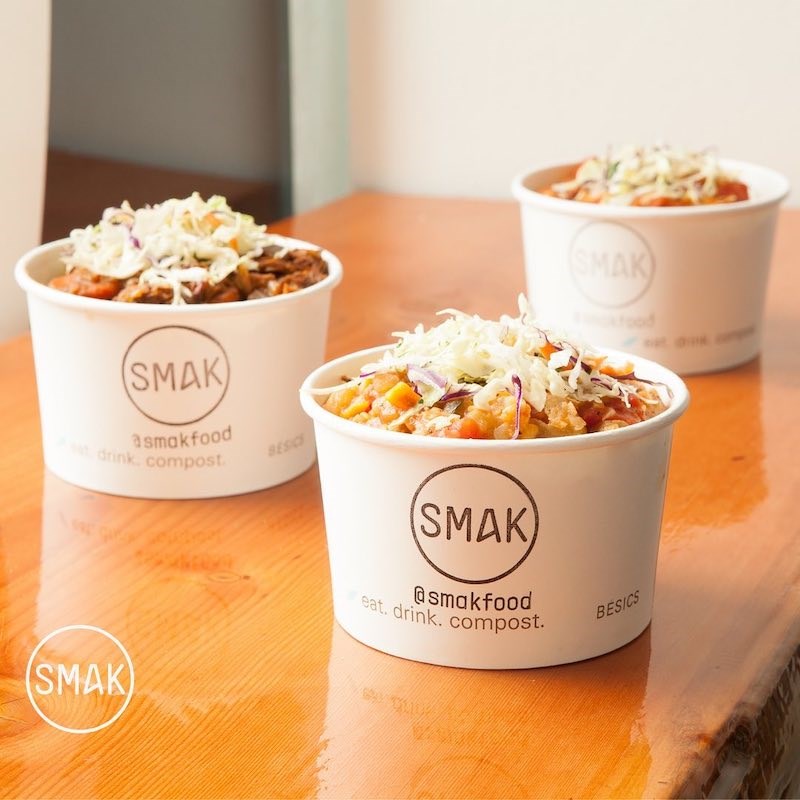 This "green" ethic has always been at the center of Ladner's concerns, who is not satisfied with the lack of real commitment from the city of Vancouver and entities like the Downtown Vancouver Business Improvement Association when it comes to business improvement. 'seriously consider car-free infrastructure. .
Smak was "a very green company", and Ladner said he was "deeply disappointed" by the city council's "lack of conviction" to do anything to make the region more "inviting and hospitable" long before the start of the campaign. pandemic.
These types of problems were "obstacles to further growth" for the company, but did not prevent it, unlike the pandemic.
Rather than focusing too much on the negatives of Smak's shutdown, Ladner calls out a few reasons to be proud of.
"Since Smak opened on May 29, 2013, we have served over 1.15 million customers, achieved over $ 13 million in sales and have signed paychecks for over 350 people. We sold 128,000 bowls of full size green chicken curry, "he adds. "It's a lot. It's a lot of money for the local suppliers."
As a company that provided a human point of contact for many customers during a busy workday, there is a profound loss in grieving, despite the fact that it may look like other restaurants. – namely those who, unlike Smak, serve alcohol, or what Ladner calls "alcohol and the atmosphere" – thrive. But even big brands like A&W and Starbucks have packed their bags in the neighborhood, he says.
Ladner has to tie up matters related to the closure of Smak, but he's certain he'll likely work in the restaurant business again.
"This is what I do and what I'm good at," he said Vancouver is awesome. "But I'm going to work for someone else who has money. I'll go from being a job creator and innovator to being an employee."
In business, it boils down to finances, just like Ladner, who sums up the end of the Smak chapter: "At the end of the day, there just isn't any money on the table. The business model doesn't work. . "